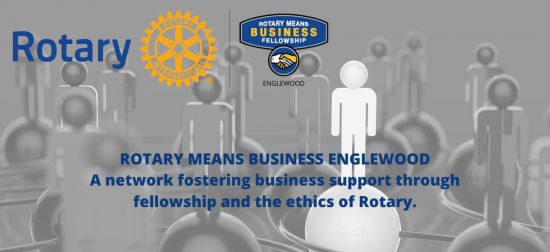 Rotary Means Business Englewood is a chapter of the Rotary Means Business Fellowship
In 1911, Paul Harris, the founder of Rotary, wrote an article entitled "Rational Rotarianism" which can be summarized as follows: "Life in Rotary should be a rational mixture of business, civic activities, and good fellowship." Rotary Means Business Fellowship was created to encourage Rotarians to network among themselves and to find ways to do business and support each other. An original intent of Rotary was for like-minded business professionals to amplify their fellowship and through association strengthen businesses as well as their communities. Rotarians in Englewood, FL of SW Florida District 6960 continue to build on those core principles put in place over 100 years ago. After all, who would you rather do business with?
WHY ROTARY MEANS BUSINESS (RMB) IS IMPORTANT:
RMB brings Rotarians back to one of the founding Rotarians' main emphases: BUSINESS NETWORKING; and strengthens our Vocational Lanes

RMB provides chances for expanded business and professional opportunities by bringing Rotarians together in a broader, cross-club social business-networking environment

RMB provides a structure to bring "business" back into Rotary in a way that supplements rather than competes with the service and fellowship aspects of Rotary

RMB provides opportunities for qualified guests to experience the value of Rotary, learn more about Rotary, and possibly become Rotarians

RMB supports member retention as Rotarians see the value added by Rotary and RMB

When we are able to provide opportunities to strengthen the businesses represented at Rotary, our members will be stronger creating stronger clubs

With Stronger Rotary will be stronger, The Rotary Foundation is stronger, and therefore we are able to do more to make our communities stronger
______________________________________________________________
The strength we bring to our communities begins and ends with strong businesses working together guided by the Four-Way Test.
The Members Directory is a great place to find Rotarians. Here you will be able to search by many variables including country, state, city, business categories, Rotary clubs, and more.
To become a member you must be a member in good standing of a Rotary club.
Rotary Means Business Fellowship dues: $15.00 per year or $75.00 for a lifetime membership
TO JOIN GO TO rotarymeansbusiness.org